Air Freight From UK
Air Freight | Commercial Cargo | Excess Baggage | Online Shopping
Air Freight Services for All Sizes of Cargo:
When it comes to air freight shipping aka Air shipping, trust Arab Africa Cargo to handle all your needs. As a UK-based freight forwarder, we specialize in the transfer and shipment of goods via air freight, whether it's consolidated or commercial cargo. We comprehend that your shipping needs are unique, which is the reason we can offer air freight services for cargo of any size and weight. From personal effects to excess baggage, we have it handled.
When it comes to air freight transportation, we also recognise the importance of speed, safety, and dependability. That is why we make it simple for you to arrange for your items to be collected from any UK, Europe or USA location and sent to any airport globally. Our specialist team will manage all logistics and paperwork, allowing you to focus to grow your business. We are always ready to answer your concerns and advise you on the best shipping alternatives for your specific needs.
We handle a big volume of air freight and we will negotiate the best rates in the market to keep our service as affordable as possible. We are committed to delivering the best possible service to our clients, and we will work with you to guarantee that your items are sent on time and at the best available price.
In order to make a booking, we require a completed packing list with your details for shipment. This will be provided alongside your quotation and can easily be completed online. Once booked, we will provide full flight details in order for you to track your shipment with a copy of your air waybill number and contact details of the required overseas clearing agent. Additionally, we provide 24/7 support and real-time tracking to give you peace of mind and ensure the timely delivery of your shipment.
*Please note: Price is to destination airport only. Consignee is responsible for all additional costs incurred at the destination. Contact us today and let us take care of all your air freight shipping needs. With Arab Africa Cargo, your cargo is in safe hands.
Get a quick quote today by filling in the form on our website or if you would like to discuss your unique shipping requirements for shipping your cargo, please call/ email our helpful customer service representatives now at [email protected] or call and WhatsApp +442030027757. Trust Arab Africa Cargo to make your shipping seamless and stress-free process.
What is air freight?
Air freight is the shipping of commodities by an air carrier. It is often utilised for time-sensitive or high-value goods that require immediate delivery. Air freight is one of the fastest forms of transportation access, and it is used to move merchandise that has to be at its destination as soon as possible. It is also used for goods that are too enormous or heavy to convey by other means, such as road or sea. This includes but is not limited to, perishable commodities, high-value items, and time-sensitive cargo.
How is air freight different from other shipping methods?
Although air freight is faster than other modes of transportation, such as sea freight, it is also more costly. Air freight is generally utilised for time-sensitive or valuable items that must be delivered quickly. Air freight is the most costly mode of transportation, but it is also the fastest. Air freight is considerably more versatile in terms of destination alternatives, since it may be transported to practically any airport in the globe, as opposed to maritime freight, which is confined to ports. Furthermore, air freight allows for more frequent and consistent delivery, making it perfect for time-sensitive or perishable items.
How do I calculate the cost of air freight?
The cost of air freight is governed by various factors, including the weight and volume of the cargo, the distance travelled, and the kind of air carrier utilised. The weight and volume of the cargo are crucial elements in calculating the cost since they impact the space and weight required on the aeroplane. The shipment's distance also matters since it influences fuel consumption and flying duration. Additionally, the cost is affected by the kind of air carrier utilised, as different airlines have varying prices and fees.
Can I track my air freight shipment?
Yes, most air freight companies provide tracking services so you may always know where your package is. This gives you visibility and control over your cargo, ensuring that it reaches on schedule, at the correct place, and in the exact condition, it was delivered in. This service is given via a tracking number or an air waybill number, allowing you to trace the location and status of your product at any time during transit.
How do I prepare my cargo for air freight?
Your goods should be appropriately packaged to ensure its safety during transit. It is critical to carefully identify your goods and offer precise packaging lists so that the carrier understands what is in each box. Proper packing involves, but is not limited to, securing the cargo, safeguarding it from harm, and correctly labelling and documenting it. It is also critical to ensure that the cargo is adequately secured and packed in order to comply with air freight rules and safety requirements. This involves making certain that the cargo is appropriately secured and wrapped to avoid damage or loss during transportation.
What documents are required for air freight?
Air freight shipments require a number of paperwork, including an air waybill, a commercial invoice, a packing list, and any other applicable export or import documentation required by the country of destination. The air waybill is a document that serves as a receipt for the shipper, stating that the carrier has accepted the items for transit. The commercial invoice is a document that contains specific information about the products being transported, such as the value, weight, and description of the items. The packing list is a thorough document that specifies all of the products being transported in each shipment, as well as the weight and dimensions of each package. Other documentation, such as export licences, import permits, and certificates of origin, may also be required depending on the destination country.
Are there restrictions on what can be shipped via air freight?
Yes, there are limits on what may be delivered through air freight, such as things that are dangerous, perishable, or prohibited by the destination country. Air freight is not permitted to transport hazardous commodities such as flammable liquids, explosives, and poisonous chemicals. Food, plants, and live animals are also prohibited and may need specific packing and paperwork. Furthermore, some things, such as guns, currencies, and valuables, may be banned by the country of destination and may necessitate extra permissions or licences. Before sending any items through air freight, it is critical to check with the carrier and the destination country's requirements.
The Benefits of shipping by Air Freight
Testimonials
What People are Saying about Us!
Get your free quote right now!
Quick Quote
See how much it will cost to ship your goods today with Arab Africa Cargo!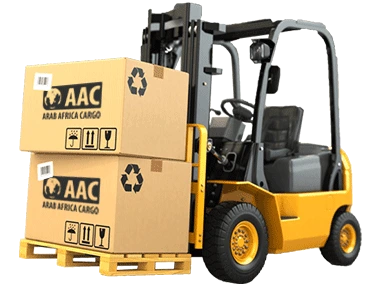 FAST DELIVERY
Experience Unmatched Expertise in Worldwide Cargo Delivery with Fast Commercial Cargo – Fast Air Cargo to Africa & Middle East.

SAFE & SECURE
With our reliable freight forwarding services, you can enjoy peace of mind knowing that your cargo is in safe hands from start to finish.

24/7 SUPPORT
We go above and beyond to provide exceptional support for all your shipping needs. Our enthusiastic staff is always ready to offer innovative solutions to help your company succeed.